Dominant Company + Local Marketing Expert = Top Dollar for your home
Over $40,000,000 pended or sold in 2021!
Eddie's passion really shows in his marketing. More buyers now than ever are looking to the internet to find their home. This marketing campaign will provide the best "First Impression" which will lead to more exposure and add more value on the final sale. Make sure you "Get Ready with Eddie" to maximize value.
Online Presence
3-D Virtual Tour: prospective buyers can do their own walk-through of the house from anywhere, anytime, generating higher interest & exposure for your property. We also offer other virtual tour solutions such as FaceTime, Zoom and other web-based camera solutions. Below is an example:
Dynamic Videos with Professional Videographer: one of the best videographers will be hired to produce an exciting and dynamic video for your home. This marketing video will be promoted all over the internet on sites like YouTube, Vimeo, IG TV, and more.
Social Media Platforms: Over a MILLION IMPRESSIONS on Facebook so far! I have personally sold over 3 houses in the 12 months+ via Social Media. Your property will be promoted on various social media sites in front of thousands of people. These sites include but limited to; LinkedIn, Facebook, YouTube, Vimeo, & Instagram. We target the "Buyer Hot Spots" where buyers are coming from. Doesn't it make sense to spend the marketing dollars where buyers are coming from?
Realtor.com Exclusive Buyer Connections: We are one of a very few companies to receive the exclusive buyer leads for your home. We are going to know your house best and be able to speak to new leads with the most information. Many sites are selling these leads to 3rd party agents who might not know details about your neighborhood or home at all.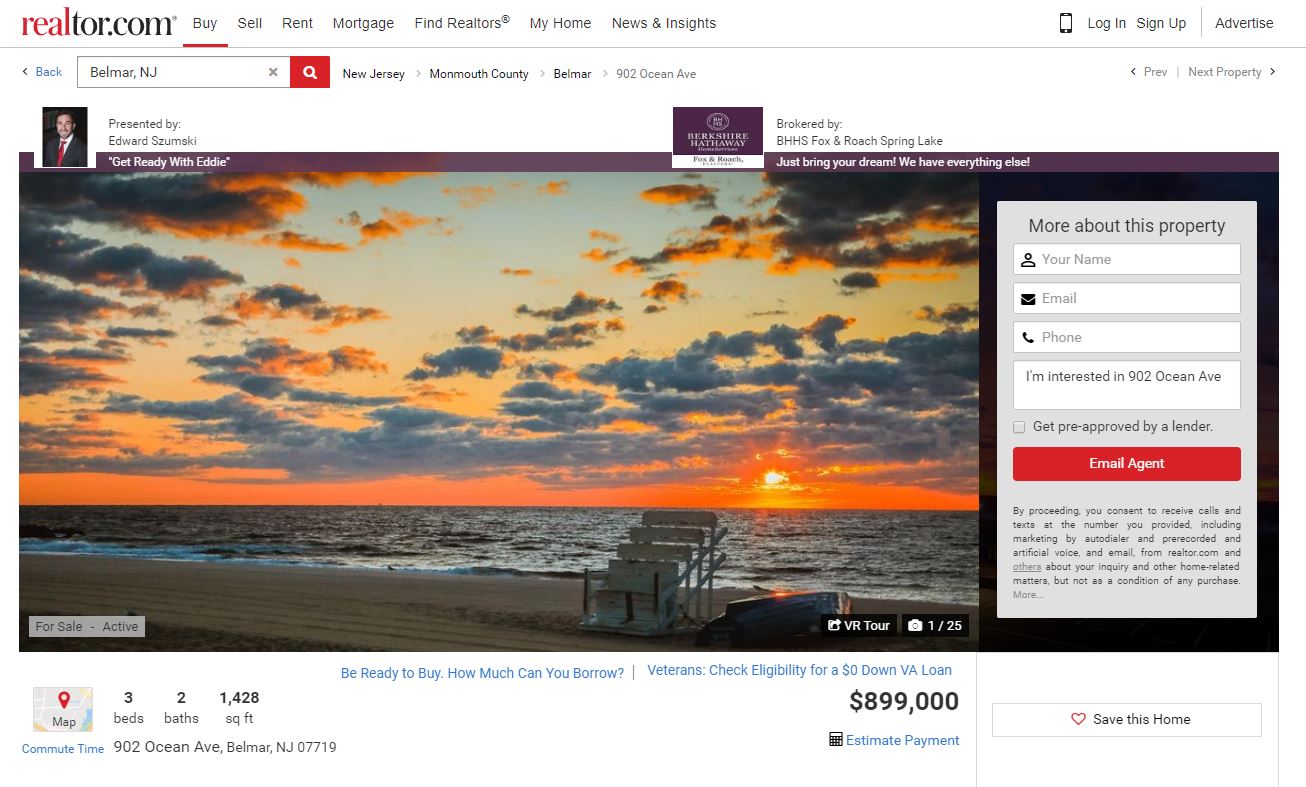 Online Websites and Marketing: Your property is promoted through an extensive network of different websites. I will strategically place the home on today's most visited websites through our syndication system.
Email Campaigns to Brokers and Agents: I will initiate and maintain an ongoing e-mail campaign with all the details and links to your property to the top producing agents. We also include all agents with qualified prospects whose search criteria match those of your property throughout the Multiple Listing (MLS) via various prospecting techniques we employ.
Email Campaigns to Buyer Prospects: All buyers are aggressively pursued via an online marketing campaign that distributes emails to the buyers with whom our agents are working. I will follow up to any and all inquiries about your home property with the marketing materials we design and dvelop. All marketing materials are available in both print and electronic format and immediate distribution.
Custom Website: I will choose a custom website link with behind the scenes analytics to see how popular your home is to better understand the demand of your home. This is a great negotiation tactic & tool I use in finding the demand of visitors. An Example of this is www.105Washington.com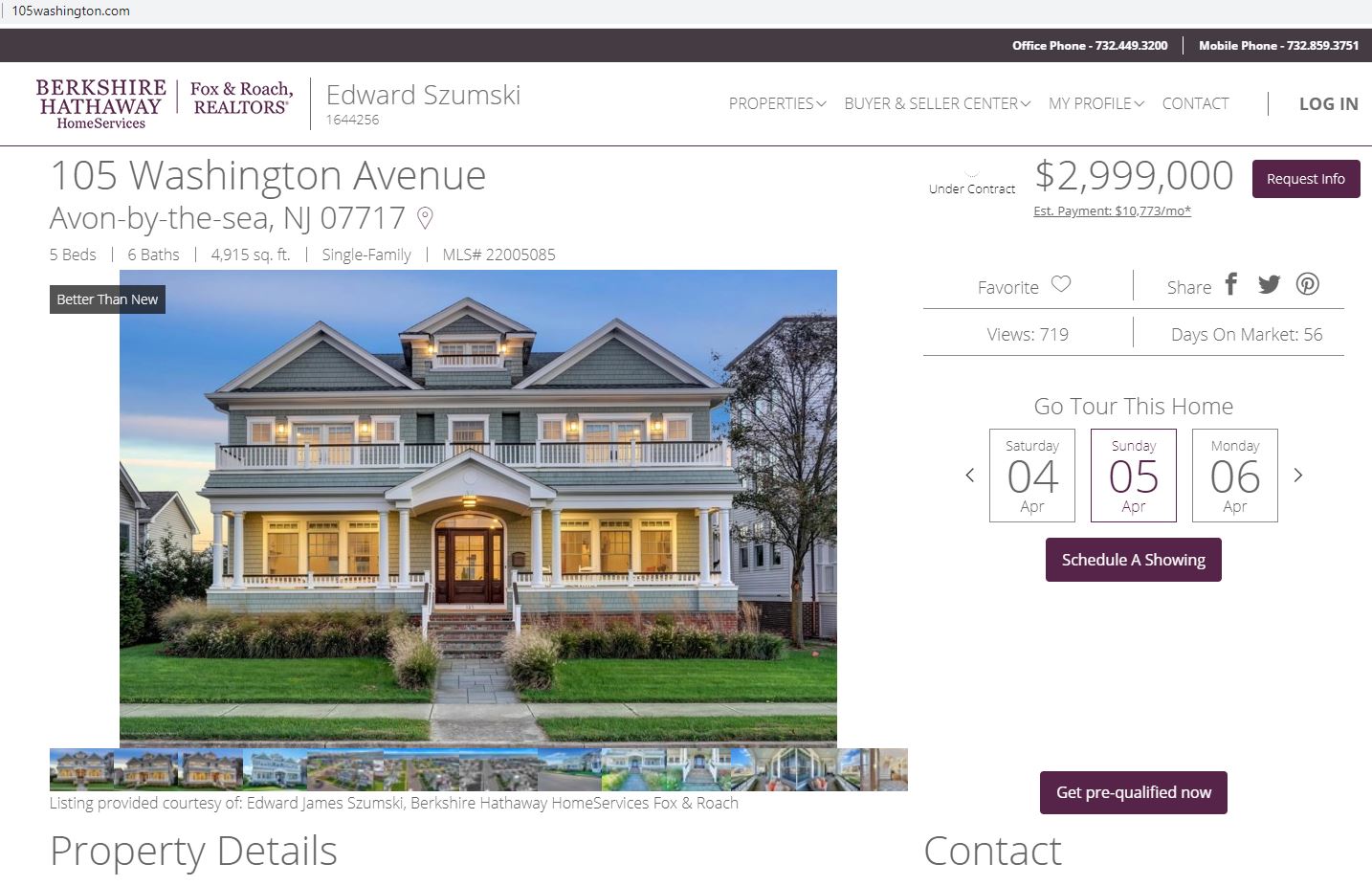 Professional Videos & Photography
Professional Photography: I will hire one of the best professional photographers to take your pictures with high resolution and that will be sure to stand out. We will take over 50 photos to use for our different types of marketing. We offer twilight photography to produce a WOW factor to buyers online.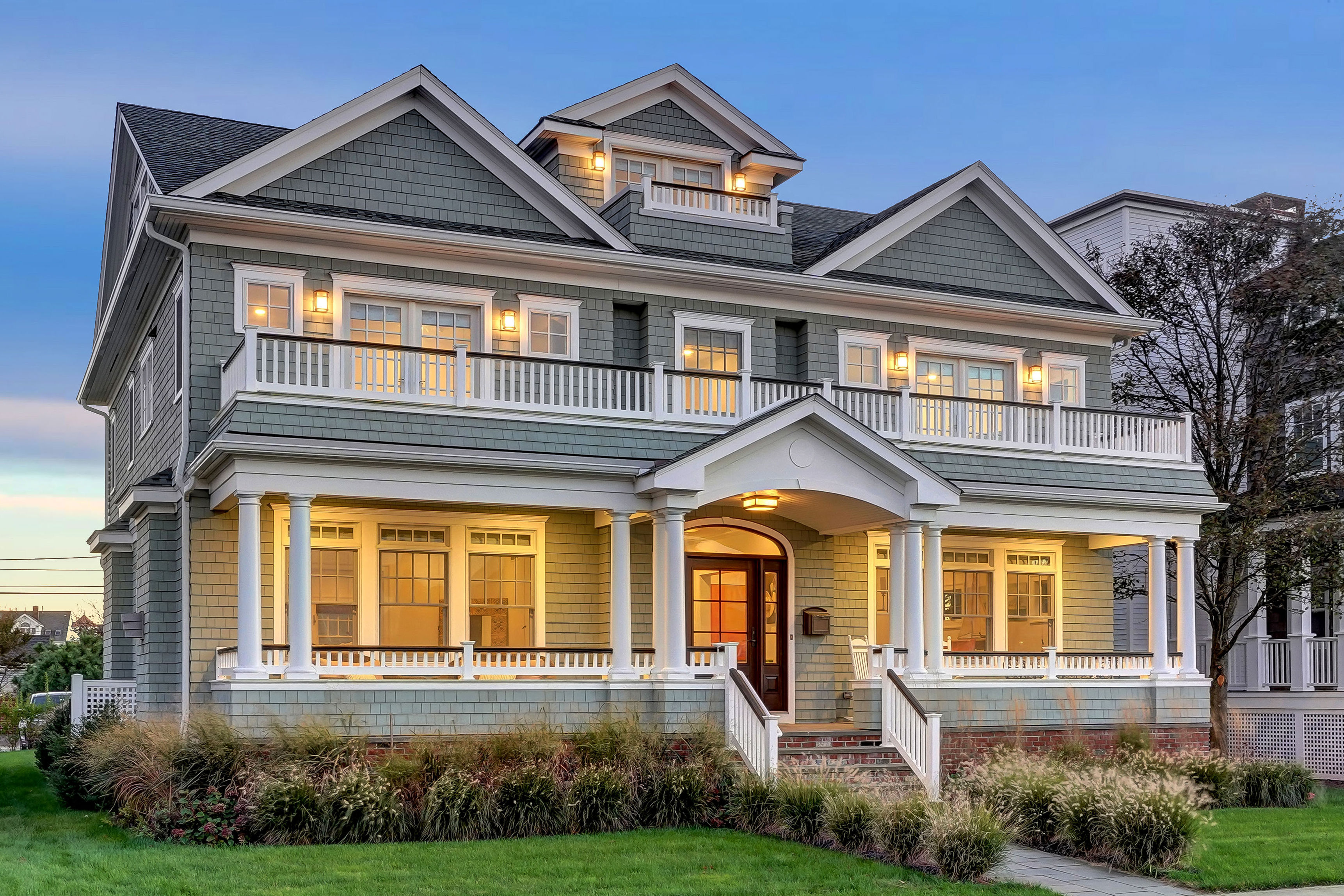 Virtual Tour: I will provide a virtual tour for potential buyers to view your entire home from our online marketing. This feature allows us to create a great impression for someone who might not have the time to travel and physically walk through the property.
Drone Aerial Videos & Photos: Being a full licensed drone pilot, I will take or hire an expert drone photographer to take a drone video which will feature the entire house, surrounding areas, and major destinations of the town. (Belmar's beautiful beaches, Springs Lake's prestigious lake etc.) Below is an example of these drone videos and photos: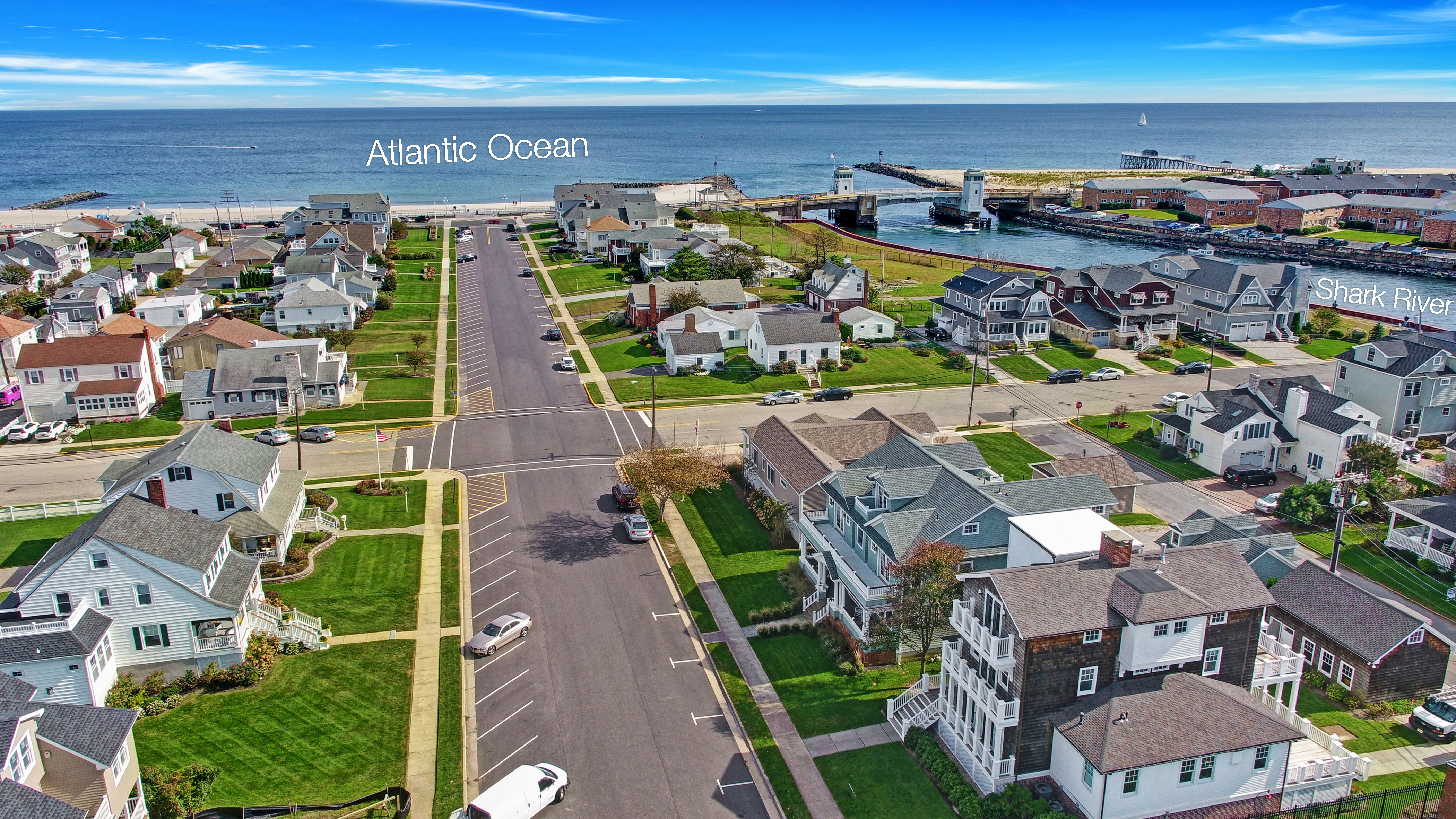 Print and Physical Marketing
Property and Home Outline/ Narrative: I will create a property and room-by-room narrative which is provided to each prospective buyer detailing and describing the homes fine features and amenities as well as its mechanical systems, updates and renovations. This is a comprehensive, quantifiable and wonderful marketing tool which also offers support for the appraisal of the home.
Multiple Photo Color Flyer/ Brochure / Floor Plans: I will design and create a full color property brochure with multiple
photos and detailed descriptions of your property, which are made available to all agents and prospects in both print and electronic format.
Print Advertising: My listings are promoted in Homes & Lands Magazine, Asbury Park Press, Coast Star, The Real Estate Guide and various prospecting techniques we employ.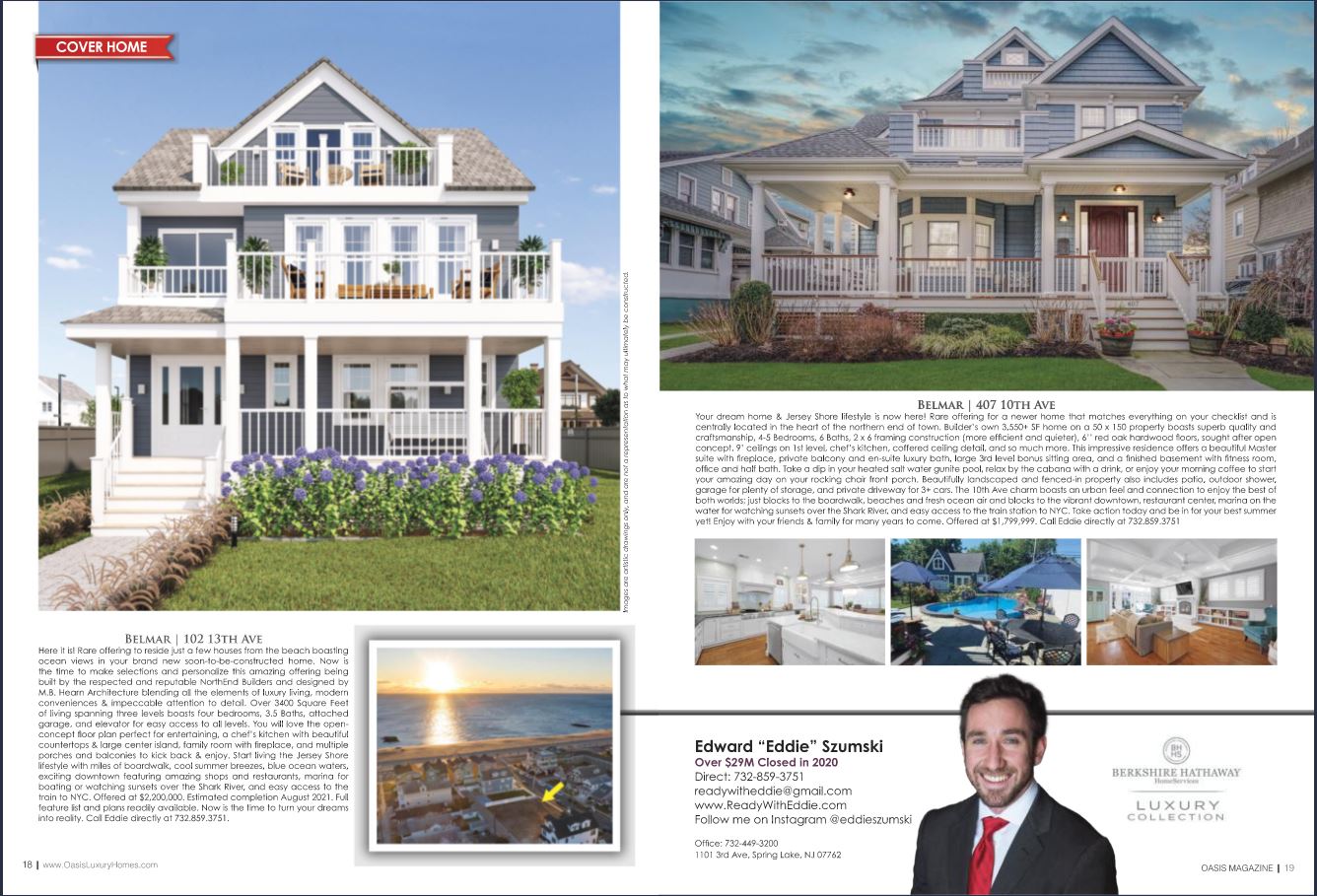 Direct Mail: I will send "Just Listed" multi-color, photo postcards to your immediate neighborhood, as well as specific targeted market areas, to further promote your property.
Sign and Brochure Box: With your permission, I will install an attractive and brand recognized "For Sale" sign in your yard along with a brochure box to provide the details of your home to potential buyers who drive, bike or walk by your home.
Above and Beyond Client Service
The "One Man" Team: I provide my clients with access to a full-service real estate team while maintaining contact with you on a one-to-one level. Being a full-time licensed real estate professional with a full-service support team will create a smooth transition through all parts of the process.
Communication with you, the Seller: I will provide weekly updates to you both verbally and in written communication. You will be updated as to what the feedback is about your home from every showing. We will continuously update you from Realtor.com, Circle Pix distribution sites and additional sites who provide reporting functions
Updates on Your Local Market: In an effort to keep you educated about the activities in the immediate market where your property is located, I will set you up with a daily notification system that will provide you with all the details about new listings, properties that go under contract and properties that close. You will receive these updates in a real time format so you always see what is happening around the market. In addition, I will send you the details of homes that are relevant to yours throughout our working relationship. I will stay connected with you on a consistent basis until your property is sold.
Contractors to Handle Preparation and Closing Projects: In the event you require the assistance of a professional contractor or trades person during the transaction process, I will provide you with various professionals to handle the project that needs attention.
24/7/365 Support: I understand the stress that comes along with buying or selling a home. To alleviate this stress, feel free to call me anytime with any question you have throughout the process. I want to assure that "You" as my client is my #1 priority. Working with myself and my team will provide you with a sense of relief when it comes to this big decision.
Our Agency and Team
Our Network of Offices and Agents: Berkshire Hathaway HomeServices Fox & Roach, REALTORS® is part of HomeServices of America, the nation's largest provider of total home services and largest residential brokerage company in the U.S. in sales volume, according to 2019 REAL Trends 500 report. The company's market dominance is three times the market share of its nearest competitor. In 2019 the brokerage completed more than 31,457 transactions. With over 5,000 Professionals in more than 65 sales offices across the Tri-State area, the company was recently acknowledged as #1 throughout the entire Berkshire Hathaway HomeServices Network. Through its affiliate, the Trident Group, the company provides one-stop shopping and facilitated services to its clients including mortgage financing, and title, property and casualty insurance.
Agent-to-Agent: I will promote your property at our weekly in-office business meetings, through agent caravan and at Broker Open Houses where a multitude of agents will be personally contacted and invited to attend.
Every home is unique and we can discuss what marketing tools will work best and provide a customized approach to get the most exposure. Every client is provided with the following fiduciary duties: Obedience, Loyalty, Disclosure, Confidentially, Accountability, and Reasonable Care.
Call, Text or Email Eddie today to schedule your pre-listing consultation. 732-859-3751.